Funeral Works is the "right-hand" of the funeral director.  Funeral Works provides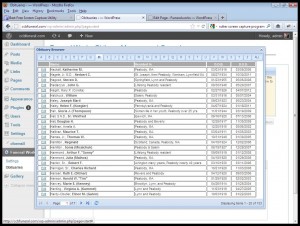 everything you need to establish your home's presence on the Internet.  We register your domain name, deliver domain name service, host your website, integrate SQL database and email services and embed the Obituary Management and Presentation System.
You and your staff can create obituaries online that allow you to include a main obituary portrait, a Memorial Slide show of images, your choice of background image (from our library or add your own,) up to three visitations, funeral and cemetery service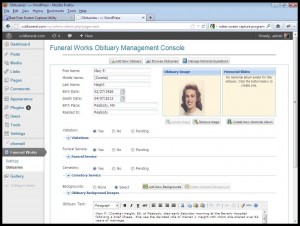 announcements.  If you can use a word processor like MS Word you already know how to use our interface.  Once entered, your obituaries remain on line and are search-able for the lifetime of your service with Funeral Works.
Select the look for your site from a number of available layouts and then we work with you to tune your site for the perfect blend of background, theme and sidebar features.
There is only one Funeral Works – try us – you will like what you get!
 A shopping cart feature is an optional add on. The obituary listing includes access to the  social network system with hundreds of listings for sharing or bookmarking and stylish printing.
Call TODAY to schedule your free online demo
800-267-4052