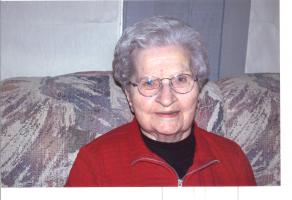 Burma Metros-Landers (nee Muffett) age 92, of Crown Point, IN, formerly of Canalou, MO., passed away on Sunday, August 19, 2012. She was preceded in death by her husbands, Glen Metros and Raymond Landers; daughter, Zelma Comer; brothers, Gaylord and Bennie Muffett; sisters, Glenna Powers, Louise Mose, and Naomi Kelly and step-son, Richard Landers. Burma is survived by her sons, Lawrence (Patricia) Metros of Lowell, Ricky (Brenda) Metros of Cedar Lake and Michael (Kim) Metros of Valparaiso; step-son Terry Landers and step-daughters, Diane Hogan and Sue (Bill) Guess; 12 grandchildren, 26 great-grandchildren, 7 great-great-grandchildren, 6 step-grandchildren and 5 step-great-grandchildren; brother-in-law, Gus (Lorraine) Metros and sisters-in-law, Marge Metros and Evelyn Muffett.
Friends may visit with Burma's family on Wednesday from 2:00 p.m. to 8:00 p.m. at Burns Funeral Home, 10101 Broadway, Crown Point, IN.
Funeral service will be held on Thursday, August 23, 2012 at 10:00 a.m. at Burns Funeral Home. Rev. Mark Promnitz officiating. Interment at Elmwood Cemetery, in Hammond, IN.
In lieu of flowers, family requests donations to the American Diabetes
Association.
Service details, Social networking, Memorial Guestbook and Slideshow are available here.