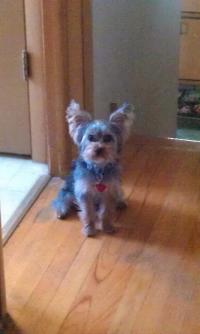 Caesar, who's name was Toby at the time was born from his parents Wayne & Trisha out of Detroit MI and came into our lives September of 2011.
Residing in a South Suburban area of Chicago we weren't able to pick him up ourselves, so we hired someone to transport Caesar to us.
As small as he was, Caesar Caesar had a personality so big that it affected every person he came into contact with even the delivery driver who was kind enough to send pictures and keep us updated as they were making there way to our home.
Once he arrived you can literally feel the love pouring out of him as he was put into our arms and from that moment on we knew he was more than a pet.
Throughout the years like any other dog Caesar has ran, jumped, ate, slept and played but unlike any dog he would smile which I thought was so unusual but it made the day better.
He was there for comfort during hard times, therapeutic even. More importantly his spirit was so loving and angelic which is something that we all as his family will miss the most. We love you Caesar, Rest well.