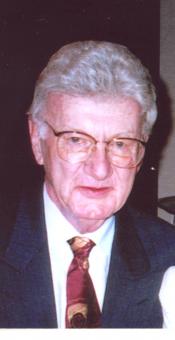 (FLAG)
Ronald T. Spangler, age 91, of Merrillville, IN and Mission Viejo, CA, passed away on Monday, March 25, 2013. Ron was born in Britt, Iowa, the son of William & Glenn Spangler. He was a graduate of Britt High School and Creighton University where he received his BS and Juris Doctorate in 1950. He was a veteran of World War II, U.S. Army where he was a paratrooper for two years. Ron practiced Law for over 48 years and was a senior partner and founding member of the law firm Spangler, Jennings and Dougherty, with offices in Merrillville, Valparaiso, and Indianapolis. He was a member of the American, Indiana, & Iowa Bar Associations and was admitted to practice Law before the U.S. District Court, the Southern District Court of Indiana and the Appellate Court of Indiana. Ron was a member of SS Peter & Paul Catholic Church. He was a member of Delta Phi Law Fraternity, University Club, Merrillville Optimist Club, American Legion, Andrean High School Foundation, Innsbrook Country Club, and the Placido Domingo Chapter of the Guilds of Orange County Performing Arts Center. Ron was an avid fan of Notre Dame football and an accomplished duplicate bridge player winning many championships at the Laguna Hills Bridge Club.
He is preceded in death by his parents, William & Glenn Spangler, brothers, William & Paul and sisters, Evelyn Long, Dolores Kayser and Pat Spangler. Ron is survived by his loving wife of 57 years, Bette Spangler of Mission Viejo, CA; daughter, Debbie (Alan) Barbanel of Los Angeles, CA; grandson, Tristan Barbanel of Los Angeles and many other loving nephews and nieces.
Friends may visit with Ron's family on Friday, April 5, 2013 from 2:00 p.m. to 8:00 p.m. at Burns Funeral Home, 10101 Broadway, Crown Point, IN. Funeral service will be held on Saturday, April 6, 2013 at 9:15 a.m. at Burns Funeral Home going to SS Peter & Paul Catholic Church, 5885 Harrison St., Merrillville, IN. for Mass of Christian Burial at 10:00 a.m. Interment at Calumet Park Cemetery in Merrillville, IN. Contributions designated in Ron's memory may be made to California Heart Center Foundation, 8536 Wilshire Blvd, Suite 301, Beverly Hills, CA 90211.
wwwburnsfuneral.com
Service details, Social networking, Memorial Guestbook and Slideshow are available here.