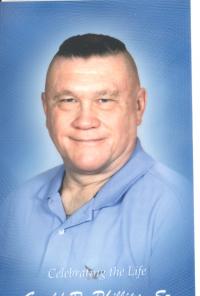 Gerald R. "Jerry" Phillips, Sr., age 64, of Lowell, formerly of Merrillville, passed away on Monday, October 29, 2012. Jerry was a graduate of Horace Mann High School, Class of 1967. He was a former employee of US Steel-Gary Works for 14 years and was employed at the Ford Assembly Plant in Hegewisch, IL for the past 26 years. He attended Prince of Peace Lutheran Church in Merrillville and was a member of Our Lady of Consolation Church for many years. Jerry was a former Fire Chief of Independence Hill & Ross Township Fire Service and retired after 30 years of service. He was a former member of the Gary Sportsmen's Club. He coached many years in the Merrillville Little League and served on the Board of Directors. He was preceded in death by his parents, Dorothy (Tom) Zimmer and Virgil Phillips.
He is survived by his wife, Martha; 4 children, Tracey Phillips of Valparaiso, Jerry (Nancy) Phillips of Crown Point, Wendy (Chuck) Reeder of Lowell and Ted (Carrie) Phillips of Alexandria, VA; 3 grandchildren, Tyler & Jayden Phillips and Joshua Reeder; 2 sisters, Nancy Rouhselang of Hobart and Karen Solomey of Demotte; several nieces & nephews and beloved dogs, Tippy, Missy – Prissy & Sam.
Funeral service will be held on Friday, November 2, 2012 at 12:00 p.m. at Burns Funeral Home, 10101 Broadway, Crown Point, IN. Rev. Joseph Vamos officiating. Interment at Calumet Park Cemetery in Merrillville, IN.
Friends may meet with Jerry's family on Thursday from 2:00 p.m. to 8:00 p.m. Fire Department prayer service Thursday at 7:00 p.m.
www.burnsfuneral.com
Service details, Social networking, Memorial Guestbook and Slideshow are available here.