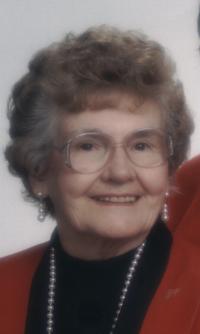 Dolphe (Frushour) Bublitz, age 90, of Hobart and Naples FL, passed into the Lord's hands November 18, 2012.
She was predeceased by husband Robert H. Bublitz, son Robert W. Bublitz, parents Stuart and Virginia (Thompson) Frushour; sister Betty McGuire, and brothers Stuart and Wayne Frushour. Dolphe is survived by daughters Kathy (Tom) Grabiek, Rumney, NH, Carol (Randall) Berning, Naples FL; son Daniel (Sue) Bublitz, Hobart; grandson Matthew Berning, Naples FL and many nieces and nephews.
Dolphe grew up in Plymouth IN. During WWII she and sister Betty worked for Bendix (South Bend) in airplane turret quality control. After WWII both attended IU-Bloomington where Dolphe met Bob. They married in 1947 and raised 4 children in Miller before moving to Hobart in 1973. Dolphe's been enjoying Naples since January 2012.
A longtime member of Augustana Lutheran Church, she was active in many activities and missions of the church. Dolphe was also a former longtime member and Past-President of Sandears Extension Homemakers, Delta Theta Tau sorority, Hobart Garden Club (she spearheaded the Hobart Triangle Welcome project at SR51/130 and Cleveland Ave),and a Hobart Community Improvement Committee member. Dolphe and Bob were longtime Meals-on-Wheels volunteers and avid bridge players with Merrillville and Portage Senior Bridge. Dolphe loved her many friends, extended family and church life, and enjoyed crafts, gardening, flower arranging, reading, traveling, ballroom dancing and making a wonderful home and memories for her family. She was a happy, pleasant lady and will be dearly missed.
Visitation Friday, November 30, from 3:30 to 7:30 p.m. at Burns Funeral Home, 701 E. 7th St., Hobart and Saturday from 10:30 to time of Funeral Service at 11 a.m. at Augustana Lutheran Church, 207 N. Kelly Street, Hobart. Memorial gifts may be made to Augustana Lutheran Church or Hobart Jaycees, P.O. Box 425, Hobart, IN 46342.
Service details, Social networking, Memorial Guestbook and Slideshow are available here.