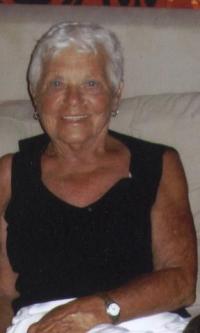 Faye L. Lynch, age 81, of Crown Point, formerly of Lakes of the Four Seasons, passed away on Saturday, January 26, 2013, after a courageous two-month battle with cancer. Born in Knowles, WI, and raised in Oconomowoc, WI, Faye lived in Northwest Indiana for the past 50 years.
Married to Joseph F. Lynch (deceased) for 57 years, survived by 3 children: Karen (Thomas) Pavel of LOFS, Patty (Greg) Adams of Pittsburgh, PA, and Joseph (Tammy) Lynch of Valparaiso, IN: 6 grandchildren: Greg (Maggie) Adams of Cambridge, MA, Leah (Matt) Thon of LOFS, Michael (fiancee Kristin) Adams of Glen Allen, VA, Kimberly (Robert) Rabelhofer of LOFS, Patrick Adams of Richmond, VA, and Matthew Lynch of Valparaiso, IN; two great-grandsons: Will Adams of Cambridge, MA and Eli Thon of LOFS; one sister, Joyce Stroessner of Hartland, WI, brother Leon Hoff of Alvin, WI; many nieces and nephews. Preceded in death by husband Joseph, daughter Lisa Marie and brother Kenneth Hoff. She was a dear friend to many.
She was a member of SSPP Catholic Church, Merrillville, LOFS Keenagers, LOFS Garden Club and St. Joan of Arc ARCS Club. Faye enjoyed gardening, golfing, playing bridge and watching sports.
Friends may visit with Faye's family at Burns Funeral Home, 10101 Broadway, Crown Point, IN, on Friday, Feb. 1, 2013 from 2:00 to 8:00 p.m. A Mass of Christian Burial will be celebrated on Saturday, February 2, 2013 at 10:00 a.m. at SS. Peter and Paul Church, 5885 Harrison St., Merrillville, IN. Rev. Joseph E.Vamos officiating. Mrs. Lynch will lie in state at the church from 9:30 to 10:00 a.m. (time of services). Interment will follow at Calumet Park Cemetery, Merrillville.
In lieu of flowers, contributions may be made in Faye's honor to VNA Hospice and Hospice Center, c/o VNA Foundation, 2401 Valley Drive, Valparaiso, IN 46383
Service details, Social networking, Memorial Guestbook and Slideshow are available here.